Awesome show by Fehr
"From the moment the quartet stepped onto the stage, the audience was in wonderful musical hands, all under the direction of the very accomplished Tracy Fehr – A Classic Christmas: Tracy Fehr and Friends, December 12th at Oliver's Venables Theatre – Sue Morhun (Full Article)
Top international soprano performs project fundraiser
The Westmorland Gazette – LEADING lyric coloratura soprano Tracy Fehr brings her A Song for Hope tour to St Thomas's Church at Kendal on Saturday (September 8, 7.30pm). Tracy performs with orchestras and chamber ensembles, and is increasingly in demand as a solo recitalist in her Canadian homeland and overseas.
Tracy Receives the Rotary Club Unsung Citizen Award
Penticton Western News – A soprano, songwriter, musician, vocal technician and voice teacher — Tracy Fehr can now add Penticton-Okanagan Rotary Club Unsung Citizen Award to her accolades.
Youth learn stage presence
100 Mile Free Press – One by one, young performers in the South Cariboo walked onstage at Martin Exeter hall and introduced either a song, a monologue or a piano piece and performed it. One by one each of the performers took a bow and sat back down. And, one by one, professional singer Tracy Fehr gave each of the performers tips on how to improve their presentation.
Tracy's Voice & Harmony Workshop on Shaw TV
Okanagan concert series benefits Syrian refugees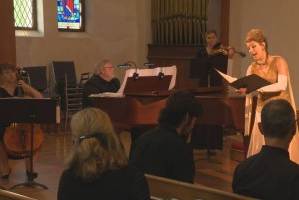 KELOWNA – An Okanagan concert series is helping Syrian refugees in camps overseas.
The first of two concerts was held in Kelowna at the Cathedral Church of St. Michael and All Angels on Friday.
"The plight of refugees is tragic and it's overwhelming but can we do something about it? We can do a little bit," says organizer Tracy Fehr. […]
An interview with Tracy Fehr with Chris Mountford on the Cross Rhythms Breakfast Show
Listen Now! (about halfway through the show)

An interview with Tracy Fehr on Giant FM 100.7
Listen Now! – Recorded Friday, November 25th, 2011

"Tracy Fehr, a Canadian singer, is currently in Tunis to perform at three concerts in three different venues: St George's church, the British Embassy, and the American Cooperative School of Tunis (ACST) on October
12th, 13th and 14th respectively. The funds raised from these concerts will be donated to the Association for Cooperation in Tunisia (ACT) in order to support the work of this association and the projects they have with women in vulnerable situations. A classically trained lyric coloratura soprano, Tracy came all the way from Canada to perform under the theme, "Song for Hope." –  Khaled Ben Rejeb, Tunisia Live.net
"… A delight both to listen to and to watch. What a generous spirit she has to come and give her time so freely for vulnerable women in Tunisia." – Hilary Musk, St. George's Anglican Church; Tunisia Live.net
"Tracy Fehr, a classically trained lyric coloratura soprano is coming from Canada to do a series of concerts. An unique opportunity to enjoy an evening of high quality music and to support the work of the Association for Cooperation in Tunisia (ACT) and its projects with women in vulnerable situations." – ACT (www.actdev.org)
"A TALENTED musical duo will be raising money to support single mothers in Tunisia in Winterley on Thursday, October 20. Ex-Sandbach School student Simon Cliff, and vocalist Tracy Fehr, soprano… from Canada, will be performing a Song For Hope." – Simon Halewood, Crewe Chronicle, (Crewe Chronicle.co.UK)
"Canadian Christian Soprano Tracy Fehr will be singing live in the studio!" – Maria Toth, Woman to woman, Premier Christian Radio, UK
"Although we have classified this release as classical this reflects the singer's training and quality of voice more than the content which is decidedly and enjoyably eclectic…. it is Tracy's voice that lingers in the memory… the purity of tone and excellent phrasing makes for a memorable recital that is worth seeking out…" – Cross Rhythms UK, CD Reviews, Steven Whitehead
"This Penticton coloratura soprano has the marvellous ability—the gift—of being able to communicate the emotional content of the story within the song… with brilliant clarity and impeccable musicality." – Oliver Daily News, Val Friesen
"This aria from Verdi's Rigoletto was a superb vehicle for introducing the audience to Ms Fehr's wondrous coloratura ability to cascade the notes, which she further demonstrated in that marvellous Queen of the Night aria from Mozart's Magic Flute. Scintillating! Other wonderful arias followed, but exceptional was Schubert's Ave Maria which she sang with grace and crystal purity." – Oliver Daily News, Val Friesen
"Super soprano… Fehr, accompanied by Dennis Nordlund captivated the audience with her beautiful voice." – Lakes District News, Rebecca Billard
"Fehr presented four arias from Messiah…. Her bright, clear voice shone through each one, flawless in the legato lines and sparkling runs and trills." – Margareta Johnson, Penticton Herald
"Soprano soars with the symphony" – Penticton Western News
"… Visiting opera singer, Tracy Fehr will be performing to raise awareness and support for ACT, an NGO doing admirable work on community development in Tunisia." – Christoper O'Connor, British Ambassador, Tunisia
Royaume-Uni
"Pour bien célébrer Le lancement du projet «Premier Skills», Son Excellence M. Chris O'Connor, ambassadeur du Royaume-Uni à Tunis, a organisé dans as résidence, à la Marsa, une brillante réception, en l'honneur de tous les participants à ce programme qui profite à 44 jeunes entraineurs sélectionnés de différentes régions de la Tunisie. Lors de cette réception, les hôtes de Son Excellence Ont up apprécier Des airs d'opéra joués par Tracy Fehr." – Tunisia Today – Le carnet diplomatique
"With the Kelowna Pipe Band and the exquisite voice of Tracy Fehr, we will take you on a Celtic journey, visit the shepherds and top it off with a witty and clever pastiche of carols and waltz," said symphony music director and conductor Rosemary Thomson. – Vernon Morning Star
"Summerland soprano, Tracy Fehr will enthrall audiences with selections from the Messiah…" – OSO media release, Castanet.net
Maestra Thomson sang with soprano Tracy Fehr in a selection from Handel's Messiah. Fehr so beautifully added a third selection: "Rejoice O daughter of Zion, for thy king cometh unto thee" – Lisa Talesnick – The Morning Star; Vernon, BC
"… Thompson stepped down from her podium and sang He Shall Feed His Flock from Messiah together with Okanagan soprano Tracy Fehr. From the same oratorio, Fehr performed the aria Rejoice Greatly, executing the graceful coloratura passages beautifully. Looking stunning in her grey and purple silk robe Fehr also gave an entertaining rendition of Finley's Eine Kleine Wiener Folly, a pastiche of famous classics overlaid with Christmas carols." – Roswitha Masson, Penticton 
Western News
Premier Christian Radio, London, UK
Interview and feature on "Women to Women" on Maria Toth's morning show!
BC Christian News
"Fehr goes from Summerland to Tunisia with love"
"TRACY FEHR spent much of last month about as far as one could get from the comforts of home, in the north African country of Tunisia.
The Summerland vocalist took with her the gift of her voice, and was scheduled to perform at several embassy-related concerts in the capital city of Tunis, as well as several informal ones."
– Andrea Dujardin-Flexhaug, Canadian Christianity
Read the full article at Canadian Christianity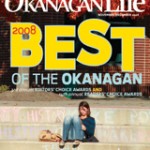 Okanagan Life Magazine
"Who Among Us:  Changing Lives Through Song"
"When classically trained soprano, songwriter, musician and teacher Tracy Fehr focuses her talent and passion, the benefits spread from local singers to children in Mozambique and women in Tunisia."
– Dawn Renaud, November/December Issue, 2008
North of 50
"Making a Difference Through Music"
"Summerland singer and vocal technician Tracy Fehr is passionate about supporting women in the arts."
– Dawn Renaud, November, 2008
UBC Okanagan's Minds and Music Concert Series – Season 4, Concert 4
Women in Poetry and Song: The Public and Private Lives of Powerful Women in the Arts
"Thank you for all your work, inspiration and talent put into our concert series!"
– Dr. Manuela Ungureanu, November 12, 2008
"Your recital was delightful."
– Dr. Barrie McCullough,  November 12, 2008
"Tracy Fehr, known for her operatic vocal talents, will be one of the… Featured performers in UBC Okanagan's Minds and Music concert series."
-Holly  Miyasaki, Western News Staff,  Penticton Western News, October 5, 2008
Summerland Review October 30, 2008
"Summerland's Tracy Fehr is singing a joyous tune as the talented singer is excited about the release of her first full-length CD – Over My Head."
-Roxanna Maron
HGTV Makeover Wish, 2006
"Music teacher Tracy Fehr gives women a voice…. This talented mentor and teacher believes that every woman deserves to sing, so we are providing a $25,000 room makeover to thank Tracy for making other women's dreams come true…." "It's a love song for a remarkable musician…."
"Tracy Fehr always sings from the heart…. this talented artist not only performs, she is determined to help others find their unique voice too."
– Erin Cebula, Makeover Wish
HGTV Makeover Wish, 2006
"A talented singer and music instructor knows that every voice in this world counts. That's why she has dedicated her life to helping… people sing their hearts out with passion and joy. And it's why the Makeover Wish Team is giving her a standing ovation and a gift that both she and her loving students can enjoy."
– Makeover Wish
Summerland Review, October 19, 2006
"Fehr and her family were filmed the entire time as they admired their new decor. As the Makeover Wish crew of 15 left the Summerland home, Fehr sang Amazing Grace, blessing everyone with her amazing soprano voice."
– Karen Edwards, Special to the Review

Penticton Western News, 2006
"Tracy Fehr, a Summerland woman was chosen to receive a home makeover by the Vancouver-based TV crew…. While most people cry or scream when they receive a big surprise, Summerland resident Tracy Fehr responded with song."
– Tracy Clark, Western News Staff
Penticton Western News, 2006
"David Berenbaum, vice president of The Eyes Project Development Corp. that is producing the show, currently in its first season, said Fehr was an easy choice. "She teaches everyone to sing," he said. "She is always looking out for someone else."" 
– Tracy Clark, Western News Staff
Penticton Herald, 2003
"Fehr is a graceful, charming performer with a strong soprano voice." "Clarity of diction and awesome breath control informed each of her selections." "Particularly striking was her 'Caro nome' from Rigoletto with its contrast between single syllables and ecstatic flowing passages of Verdi's lovesick maiden."
-Alanna Matthew, Special to the Herald