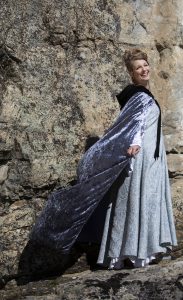 Lyric-Coloratura Soprano, Tracy Fehr… Vocalist, Weddings and Events Designer and Costume Designer! Tracy specializes in Early Music, Medieval to Baroque and has held numerous performances in Canada, North Africa, Central America and the UK.
Medieval Fehr… Tracy's passion for Medieval music and costumes for feasts, festivals, 'faires' and concerts lead to the creation of Medieval Fehr as a Medieval and Fantasy weddings & events designer – music, costumes & gowns, location set designs!
Medieval Fehr by Sigurdsdatter is a Medieval clothing line created by Sigurdsdatter featuring leather corset belts, vests and long dusters, cloaks, chemises, kirtles, viking wear, Medieval wedding attire and Renaissance fantasy! The Story… From three generations of Sigurds and with Tracy's viking and celtic roots, 'Sigurdsdatter' was born.
Tracy performs with orchestras, chamber ensembles and a cappella vocal ensembles, and is increasingly in demand as a concert recitalist, known for her vocal agility, clarity of tone and sensitive interpretations.
Tracy presents concerts in North America, the UK and Tunisia with A Song for Hope/Chansons Pour L'Espoir concert series, including performances at the British Embassy, Palais Ennejma Ezzahra, Sfax Municipal Theatre, and at universities, community halls, schools, churches and theatres.
Tracy has been featured on HGTV's Makeover Wish: Something to Sing About; Premier Christian Radio in London, UK; Cross Rhythms Radio in Cheshire, UK; CHBC; Shaw TV; CBC radio; UBC Okanagan Minds and Music Series; Okanagan Life Magazine, and on Tunis Live.net.
Tracy holds a Bachelor of Music, Vocal Performance (with distinction) from the University of Alberta and an A.R.C.T. (Associateship Degree) in Singing, Performance from the Royal Conservatory of Music, Toronto. She was an Artist in Residence at Regent College, Vancouver, in 2019 and she is a member of the BC Registered Music Teachers' Association.
"Tracy Fehr was amazing–glowing voice and such a natural performer – and can dance as well!…" – "Tracy Fehr has a superb voice" – Ticketmaster audience review
"A classically trained lyric coloratura soprano, Tracy came all the way from Canada to perform under the theme, "Song  for Hope…"  -Tunisia Live.net
"… A delight both to listen to and to watch" –  audience review, Tunisia Live.net
"…the exquisite voice of Tracy Fehr…" – Vernon Morning Star
"Fehr performed the aria Rejoice Greatly, executing the graceful coloratura passages beautifully" – Penticton Western
"Super soprano… Fehr, accompanied by Dennis Nordlund captivated the audience with her beautiful voice." – Lakes District News
"… brilliant clarity and impeccable musicality." – Oliver Daily News
Tracy was awarded a Paul Harris Fellow, Rotary International 'Unsung Citizen Award', Penticton, 2017.
On March 5th, 2011 Tracy received an Arts Award at the Sowins 6th annual Women Front & Centre Awards Dinner and Gala in Penticton, BC. With this award came a beautiful original piece of artwork by Laila Campbell.
Tracy was awarded the "Rotary Vocational Award" at the Summerland Community Excellence Awards, February 27th, 2010